Denali's Puppies !
Denali was bred to a lovely girl, CH Starquest's Ex'llent Adventure, CD, RN, MX, MXJ, "Lexi".
Puppies were born on May 12th, 2008. 4 girls and 3 boys, Mama and pups are all doing well!
Lexi is a very sweet, lovely and accomplished bitch, owned by Jim & Martha Lageshulte of Colorado.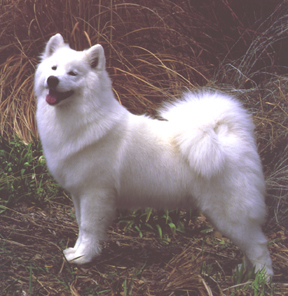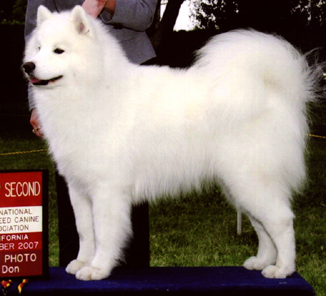 Lexi and Denali

Puppy pictures from each week

One Week Old - and a couple of newborn pics

Eight Weeks Old the last weekly update with all 7 pups!

Puppies and their new owners and (some) new names

Denali got a very nice Fathers Day card, just slightly belated, and very precious!

Denali has passed the following health checks: CHIC - OFA # 46180
Hips - Good SA-14346G26M-VPI
Cadiac - Normal SA-CA285/44M/P-VPI
Eyes - CERF SA-4872 (05,08)
Progressive Retinal Atrophy - Clear SA-PRA150/44M-VPI
Other tests
Elbows - SA-EL700M26-VPI
DNA - V398693


Owned and Loved by:
Lynda & Larry Tusoni
Angels Camp, California
Email for More information

Member of the Samoyed Club of America





Designed & Hosted by Goldrush World Access
Copyright © 2004 - 2009
Larry and Lynda Tusoni
All rights reserved